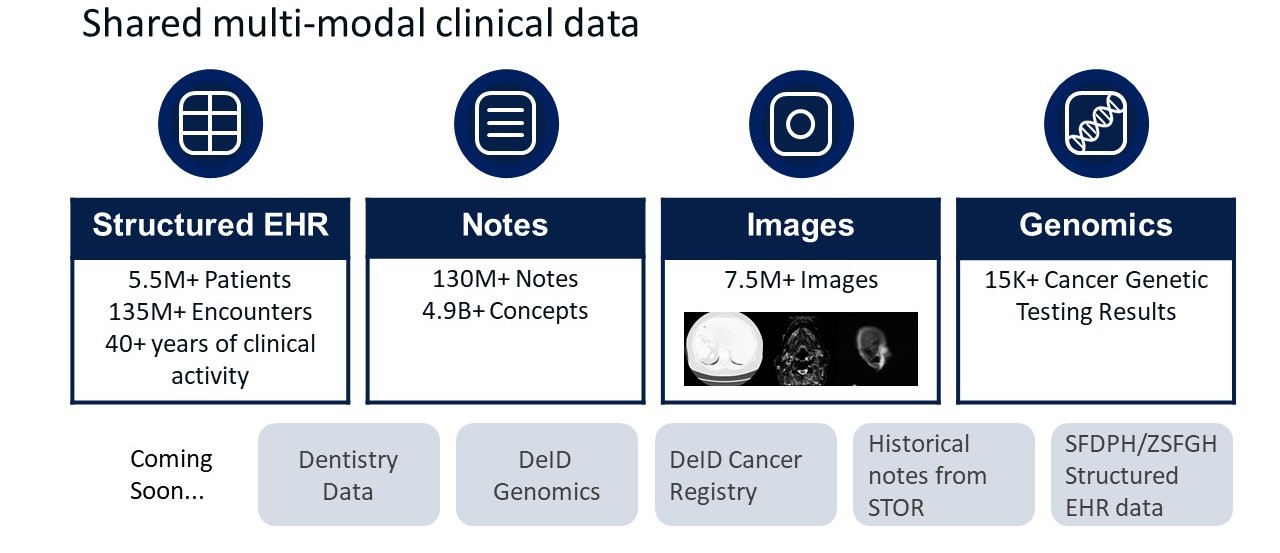 Information Commons hosts multi-factor and multi-modal data, including UCSF's structured clinical data, clinical notes, meta-data on clinical notes, extracted concepts from clinical notes using Natural Language Processing (NLP) and other approaches, radiological images, meta-data extracted from DICOM (Digital Imaging and Communications in Medicine) headers.  Other sources are planned to be added in the future, including omics data (cancer and germline), pathology slides, waveform data from bedside monitoring devices, data from UC Health Data Warehouse.
Information Commons hosts multi-factor and multi-modal UCSF clinical data.
Currently Available Data Sources
Structured de-identified Electronic Health Records (EHR)
Notes
Radiology Images 
Images are being added to the Information Commons 1 cohort at a time and on request. There are currently ~ 50k imaging exams available in the IC and the number is growing. To request a cohort of images that are not in the IC, please submit a request. To fulfill the request you will need to provide a list of deidentified "accession numbers" obtained from the IC structure data sources listed above.   
If you need help, please indicate that in your request and someone from ci2 will contact you. 
Images are only available on the IC Wynton App Server. 
Genomics 
Data Sources Under Development
Dentistry Notes  
UCSF Local Cancer Registry  
Historical notes from STOR  
SFDPH/ZSFGH Structured EHR data
Learn More